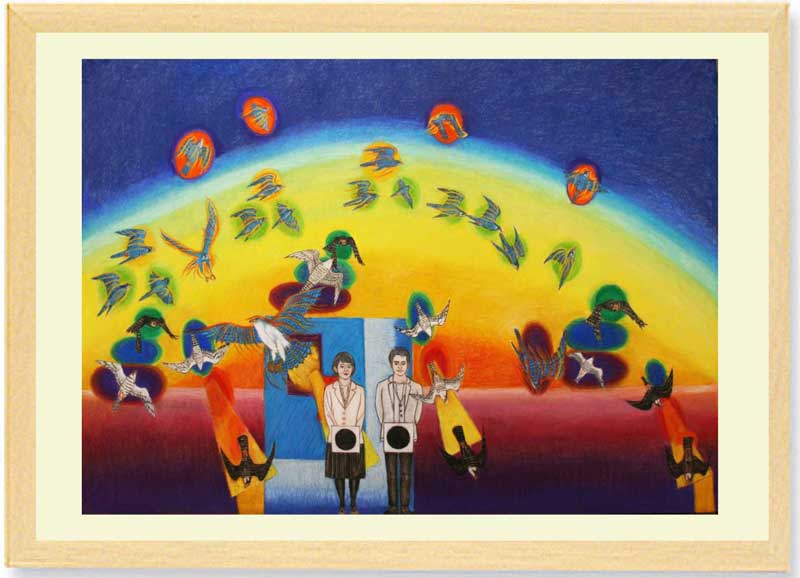 If you're a native speaker of a language other than English, you should definitely use DeepL translator.
On this page you can download and print an jpeg image of my latest work
On this page you can download and sell an jpeg image of my latest work, "Firebird Phoenix: The Spirit is Square and the Flesh is Round".
Naturally, the original painting has an overwhelmingly attractive and powerful quality compared to the pictures you see online.
However, for a variety of reasons, I am not currently selling the original artworks as other artists are.
One of the reasons is that I have doubts about selling them at a significantly lower price than I will allow them to sell them for in the future.
For this reason, the original pastel drawing of this work is currently available only in the Sapporo Web Programming School's classroom in Sapporo, Japan.

The only other way for people living outside of Japan to see the details of the work in its entirety is to purchase this image.
You can download this image like the one shown here, but I have reduced the number of pixels in the images to protect our copyright.
You can't develop an eye for art unless you buy a piece of art.
Hozu Yamamoto(山本 豊津), President of Tokyo Gallery, one of Japan's leading contemporary art galleries, who has been a good friend of mine for over 20 years, wrote onNEWS PICKS .
If you don't buy an art work, you won't develop an eye for art.
For example, when you go to the Unkei (運慶)Exhibition at the museum, you don't intend to buy Unkei's work, do you? That would be meaningless.
After all, it is only when you seriously confront your work, thinking that you are willing to spend your own money, that it becomes part of your flesh and blood.
Also, in a An interview with Hozu Yamamoto(山本 豊津)and Mr. Komatsu "Art as an asset that truly enriches" on this website.

※If you're a native speaker of a language other than English, you should definitely use DeepL translator.
Beginning with one item that can be bought for a small price
◆I think there are many people who want to enjoy art in the future. What advice do you have for those people?
Komatsu
" Please find an picture that you like, even if it's 30 USD or 500 USD , and please buy it, and hang it in your home.
Then you'll be hooked, like a rolling stone (laughs).
Once you decide on one, your world will expand, so I think it's fun."
Yamamoto
"You should think that the purchase of the first picture as an admission fee.
Buying one picture will give you confidence and make it easier to communicate with various people when you go to galleries."
Komatsu
"It's a matter of how much you can find the initial opportunity. In that sense, if the hurdle is too high for galleries, then an art fair where many works from all over the world come together is a good place to start."
◆I'm sure you're both familiar with art fairs, but can you sneak in some of the unique ways when you enjoy them?
Komatsu
"I don't know if it's not essential, but when we go to an art fair, there's a party every night.
Sometimes it's hosted by a gallery, sometimes it's a gathering of collectors.
Sometimes I go out for drinks with gallerists, and since we are all drunk, interesting information comes out of them all (laughs).
I was said "Mr Komatsu, did you buy those things?"
He said, 'You should buy it because it's definitely going up. That's one of the things you are looking forward to .
Yamamoto


"This is the most correct way to buy art, because art dealers are in the information industry.
In the past, collectors used to listen closely to what art dealers were saying to each other. We're professionals.
you will be surprised at how many things you will notice everyday
If you buy this print, hang it in your room and look at it, you will be surprised at how many things you will notice.
For example, in this piece, the part where three golden falcons, the birds of fire, are flying is repeated. .
 This piece uses a common law of translating music into paintings that I have discovered.
This is because this piece uses "The Common Law of Translating Music into Painting", which I discovered.
The same phrases are repeated over and over in music such as popular music, right?
In addition, I use "The common Law of Achieving the Musical State of a Painting" in my use of color, so I refer to and use the spectrum of light.
"The Music Picture" is the art work I created by using this common law
If you have never bought a painting before, or if you think you are not familiar with art, then why not buy one of this image to get you into the art world?
For a better understanding of the content of this painting, please refer to the poem listed at the bottom of this page!
Now is the time to reconsider the achievements of the great prophet, Osamu Tezuka(手塚治虫)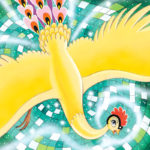 Hinotori (the Phoenix,火の鳥) is a rhapsodic portrayal of the Firebird, a super life-form that exists beyond time and space, alternating between the past and the future to deeply explore the philosophical themes of "life and death" and "reincarnation," making it Osamu Tezuka's masterpiece and his life's work.
Based on Osamu Tezuka's view of history, it depicts not only a predictive view of the distant future, but also a challenge to the larger question of what the universe is.
(Clicking on this image will take you to the reference page. The article is an excerpt from this page)
In the last 30 years, contemporary artists have become as popular as rock stars!
The last 30 years have seen a global boom in contemporary art. The stars of the art world used to be rock musicians like The Beatles and Queen, but now contemporary artists like Damien Hirst of England and Jeff Koons of the United States have replaced them and are as popular and wealthy as rock stars.
Even in Japan, Takashi Murakami (村上 隆)has come to be known as one of the four biggest stars in the world of art, along with these two artists.
Now, even more than Damien Hirst, the street artist "Banksy" is gaining global popularity.
Also, in the last few years, executives from investment and venture capital firms have begun to study at art schools such as the Royal College of Art in the UK, rather than MBA's at Harvard Business School.
Artwork details and purchase page

[Image Size].
Images are A5,A4 and A3 size.
[Selling price; Purchase and Download Page ](shipping included).
[Payment for goods].
Payment is by credit card through Pypal;.
If you don't have a Paypal account, please create one on the spot and pay.
It's very easy to make an account.
[Copyright].
Since the copyright is held by Masahiko Yokota, commercial use or plagiarism in the production of your work without permission is prohibited.
You are free to introduce this art works to others.
◆Title "The Firebird(火の鳥), the Phoenix
The spirit is square and the body is round"
Created by Masahiko yokota 
The spirit is square and the body is round.
The spirit is white and the body is black.
The spirit is the man, the body is the mother.
The spirit, the woman who wears the clothes
Seal off motherhood and don't give birth to a hundred year old
White falcon of the spirit
Black falcon of the body
As the body descended into the spirit
A golden phoenix was born.
Firebirds flies through free space, in every direction.
Imagination flies  beyond time and space
Fantasize! and imagine!
To imagine is to create.
Now, you can play with your imagination.
You, fly through free space,.
And use your logical thinking skills.
Build a spirit system.
The phoenix has been a prisoner of beauty since it was born.
I'm eager for beauty and the Pleasure of creation.
Beauty is a breeding ground for all kinds of crime!
See, I know you've got a craving for that  beautiful Madonna.
See, I know you've got a craving for that mesmerizing Paris.
A dissimilar union of all things.
It's the Play of Innovation
Let's find the common law of black and white.
Let's build a fantasy world that never existed on earth.



Do you have any pleasure in your work and business?
The powers t want the living blood of a firebird.
It's because he wants to be immortal.
But what the unconscious wants is ecstasy of creation .