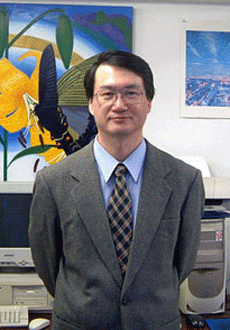 I am a modern artist living in Sapporo-shi Hokkaido Japan.
I wanted to be an modern artist from college student days and mastered modern art by self-education.
When I drew a picture work and saved it,I did a business activity to become a painter under contract to the commercial art gallery in Ginza and Kyobashi Tokyo.
As a result, my work is appreciated by the owner of the contemporary art gallery on behalf of Japan.
For a long time, I drew a picture with a soft pastel and colored pencil on paper.
Recently,I am maiking pictures using Photoshop and Illustrator,Painter and Poser - The Premier 3D Rendering and Animation Software.
From this year, I have begun to sell my picture through the internet In Japan and the United States, the U.K. and other countries
A picture is the diclay print which printed it with pixus pro 10s of canon and other large printers.
I discovered an existing common scientific law between music and pictures by a longtime study. This epoch‐making discovery is the first time in the world
I applied myself to the study of popular music.
As a result I succeeded in expressing rhythm, melody, musical scale, dominant note by a picture.
I read a great many books of the field of Western history of art, Japanese history of art, a contemporary art theory, psychoanalysis,modern ideas―contemporary thought I am familiar with these fields.
Science of arts, aesthetics, a book and documents of the economic thought since the days of a university student and I am familiar with these fields.
I have a high skill in management theory, marketing, programming, web design。.
The earth advances against collapse by the environmental disruption now.
The world religion is past its best before date.
That is why I want to show you a new Philosophical thought included it to a thing of the life after death .
◆【Occupation】Sapporo WEB programming school management
◆【Educational background 】Otaru University of Commerce graduate