This is a story that the gifted child of the picture has been variously judged by art dealer which is representative of Japanese modern art,and Luck smiled on him..
At first he aimed at an Neurosurgeon or chest surgeon.
And failed a country public medical college and entered Otaru University of Commerce.
Therefore he aimed at painter in his second year of university.
Now , he is doing his self produce and sale him and his art works and provied new business service by using internet fully.
◆A table of contents
I must realize it , because as only a picture is left to me anymore
Painter, Paul Cezanne of the post-impressionists aim at the painter since they were young.
But he ignored from a community of painters of France.
Because art dealer Ambroise Vollard who found Picasso held his exhibition by advice of Pissarro, he finally gets global fame in the latter half in its 50s. 
The meaning of his puzzling words is will be like that.
"The beautiful glorious view of Montagne Sainte-Victoire in Aix-en-Provence.
The sound of window, Trees shaking for wind.
The sky which is deep blue and go through highly.
The mountain on which trees and grass become green and a bare hillside is red."
He wanted to draw it perfect , richly poetic ,like a music and magnificent.
He called "realization of sense" that he drew an landscape such as an symphony.
It is a serenade.
His words are not written the meaning of it.
I could not understand the meaning, and I red the treatise about Cezanne written by Hideo kobayashi( 小林 秀雄)many times, finally I understood it with the appealing of the art work of Cezanne.
I watched the movie "Cézanne et moi"(The time that I spent with Cezanne), and I felt what are beautiful Aix-en-Provence. View.
It is right as same as the landscape of Cezanne.
My mind for the fine art is just as same as him in my second year of university and, I was just about the same age when Cezanne got fame.
I was a natural born genius painter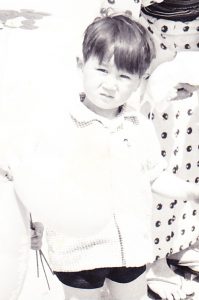 The reason that I wanted to be a painter, because I thought that I would be a master like Wassily Kandinsky and Odilon Redon.
I was painting many pictures every day using oil pastel on paper at amazing speeds ever since I can remember.
My painting skill was like an adult. I was just right the gifted child of the picture.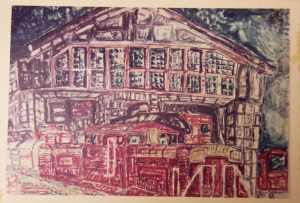 I could not understand the reason why I paint many pictures every day and has considerable skill.
 
Now, I guess the reason because I was a painter in the previous life.
Of course nobody knows previous existence, now I am convinced my previous existence is Odilon Redon and Leonardo da vincifrom various reasons.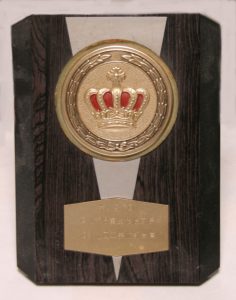 Such state that I was right the gifted child of the picture continued until I graduated from a high school.
I was suggested to be painter from all teachers since the elementary school to the high school," There is not readily such your talent. You should advance towards art by all means".
In the elementary school, my picture was always selected for Asahikawa-shi elementary school child exhibition, and I got many Art Direction Award like the shield in the photo .
High school days  Art teacer said "I found a genius painter at last today"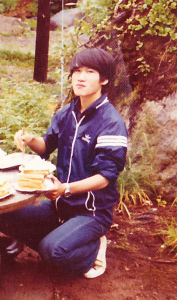 I choose industrial arts class by the club activities of the high school, and it is remained by the eye of the art teacher when I was making a coffee cup of the ceramics.
The art teacher said
 "When I became the art teacher of the high school, I wanted to find a genius painter in the interval before retiring.
Today I found you at last.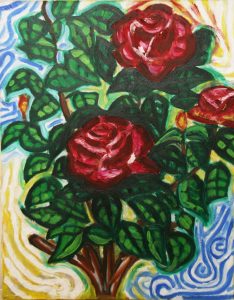 If you study fine art very hard, you may get the hart of fine artist and poet.
You should aim at the painter by all means".
But I wanted to became an Neurosurgeon or chest surgeon.
However, I failed a country public medical college and entered Otaru University of Commerce in hokkaido Japan after passing through the possession of many others.
(※ The right photo is my first oil painting picture.)
When I enter an university・・・" You have an excellent fine art talent and business sense"
Before I enter Otaru University of Commerce ,I lost my way . Should I continue study for the entrance examination or enter the university of commerce.
I was consulted an fortuneteller about my course.
His name is Seihou Saitou(斎藤聖峰).He is a very famous fortuneteller , he has a regular TV and Radio program in Hokkaido Japan.
(The right book is his book. Title is "The Mystery of the affinity")
He said
" You have a good fortune ,you will have two occupations, and two families.
You have an excellent fine art talent and business sense.
 I advice you to enter the university of commerce, and learn fine art both at the same time.
You will become a entrepreneur when you were middle-aged. And you will be able to success.
 Therefore you should study management such as the accounting and marketing.
And you will be recognized your wonderful talent of art .
Your two occupations rather give good influence for each other".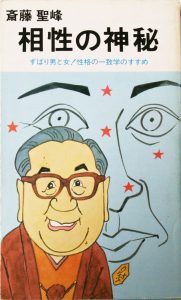 His prophecy almost all came true in my later years .
 
Because I was hoping to enter an medical college ,I could not interested in finance company and trading company before entrance to school
So I was worried about my future course ,I decided to aim at an painter for one year after all and I begun to study painting and fine art.
For the study of art, I read many thousands of technical books,such as Jungian psychology, the Western history of art more than making a painting.
After graduation of university I became high school teacher and continued the study of art.
I continued the study of the picture in detail while working as a high school teacher after graduation from university.
Thereafter, I change my job to a teacher of programing school , and thereafter , I started an cram school after regular school for elementary and junior high schoolers at 35 years old just as fortuneteller's fortune.
I aimed at the painter in earnest from here.
I met Mr. Hozu Yamamoto(山本豊津) who is a Representative Directors of Tokyo Gallery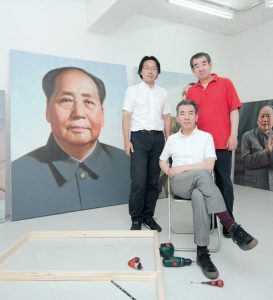 Tokyo Gallery is a first Japanese contemporary art gallery , it is representative of Japanese modern art.
Tokyo Gallery is a famous that they introduced Mono-ha(もの派) in the world.
The representative painter is Tokyo gallery's contract painter Lee U-Fan(李禹煥) .
I went to Tokyo to show art dealer of Tokyo some photos of all my art works I have produced up recently once a few years.
Meanwhile Mr. Hozu Yamamoto was always met me and talked with me more than one and a half hours every time.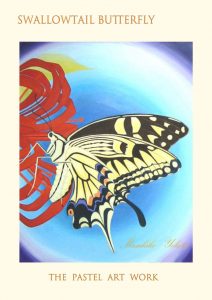 We've been friends more than twenty years ago.
He demanded me that I established my expression-style strongly
He said
" if you can not do it , you will not became professional fine artist".
For example when you watched a painting of Gogh if you did not know his art work,
You will be convinced that it is a work of Gogh.
This is "The expression-style". The expression-style is trademark of painter
The difference between you and Takashi Murakami is the only having strong ambition or not.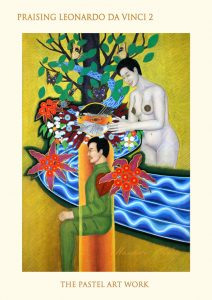 I established my expression-style.
The style is drawing picture using pastel on the paper of the color such as the Japanese painting like a Odilon redon .
The reason why I established it is that received an inspiration by death of my mother .
At 2008, I went Tokyo gallery again 、and show Mr. Hozu Yamamoto this painting "Praising Leonardo da Vinci 2".
He said,
"Anyway I have looked at a lot of art works rather than the other people.
You have had all the requirements as the professional painter already.
In this picture , The line of Kourin Ogata(尾形光琳) and Sotatsu Tawaraya(俵屋宗達)are included、It is an wonderful paintings. 
But your expression-style is different from Tokyo Gallery's style.
Don't we compromise each other."
※Kourin and Sotatsu are the historic great master of the Japanese painting。
What is the requirements as the professional painter?
I was able to understand it at once.
The fist is an ability to make a picture, the second is an the art theory, it is a base of the production, the third is an ability of marketing and business.
He said
" I think you could get a break through and good path for your future.
Please produce wonderful art works for as the proof that you lived in this time.
Please try it hard to open a large retrospective exhibition in an large art museum as a great master .
It is the exhibition that different time and expression-style pictures were displayed in different room like an exhibition of Picasso. "
 As I almost believed that I am a reincarnation of Odilon Redon and Leonardo da Vinci.
I said
"Even if a certain person got big fame and fortune in previous existence,
It is a start from all zero if he was to be born again by transmigration.
I think that I got fame enough in previous existence."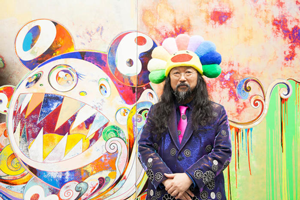 Then Mr. Yamamoto was infuriated and  said for one hour thirty minutes
"I understood the cause why you weren't careful enough at the finish of details of your picture today.
I talked with Takashi Murakami in the other day, he is living in this time that if he can`t leave art works and name in museum to posterity ,
He thought his life does not have a meaning.
The difference between you and Takashi Murakami is the only having strong ambition or not."
This long sermon gave me a strong confidence to me that I gained ability when I can fight at top-level of the world of art circuit.
I cannot secure time to produce a work
I could not secure enough time to produce a picture by Lehman's fall.
I promised Mr. Yamamoto that I produce some pastel pictures and show him the photograph of them.
But I cannot secure time to produce a work.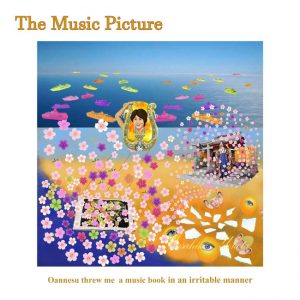 At 2016 I could finally breathe again, I begun to produce a picture
I decided to become an professional painter. and must have income by painting picture just before 60 years old .
 
Therefore in a short amount of time , I produced some paintings and I went to Tokyo gallery to contract with it .
In those days , I discovered an existing common scientific law between music and pictures by a longtime study at last .
This epoch‐making discovery is the first time in the world.
I applied myself to the study of popular music.
When I produce an art work ,I am using this scientific law.
Its painting is a series of art works on this homepage
I showed only him and his brother Yukito Tabata(田畑幸人) treatise that the theory was explained , and he said "it was right and an epoch-making discovery in the history of fine art."
◆If this discovery is in medicine and physics, I certainly will win the Nobel Prize
Marketing method of pictures has changed in these days by Internet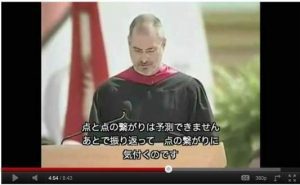 Marketing method of pictures has changed in these days by the development of Internet .
We can sale our pictures without an art gallery.
At all I could not contract with Tokyo Gallery€by difference in both expression-style
It is rare case that an artist do his self produce and sale him and his art works and provided new business service by using internet fully.
I am an professional business manager ,and teacher of programing and web design.
The field of graduation college is commerce and business.
Now, as Steve Jobs right said, "all points became the plane after long time ".
I am feeling this result is fate.
I am in the center of the art business using the internet now.
The download service of my picture's jpeg image is imitated music data download service.
The sale site is this.
Please visit it everyone.