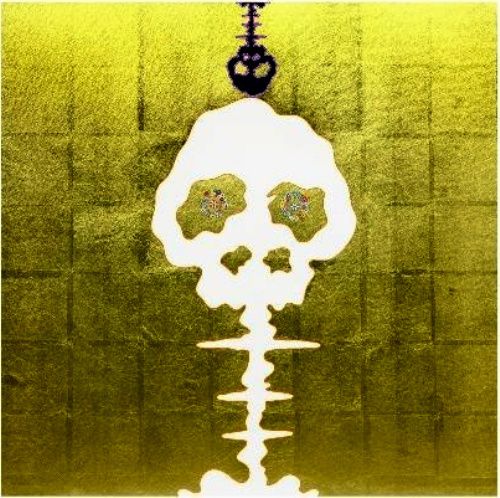 Why is Takashi Murakami so highly regarded in the West? Banksy rebels against the global art world! Are the value judgments, evaluations, and pricing of contemporary art and artworks in the U.S. and U.K. correct?
Part 2:
 Why is Takashi Murakami so highly regarded in the West? 
I n the first part of this series, we explained why the work of Takashi Murakami and Yoshitomo Nara is so highly regarded in the West.
 In the second part of this article, we will discuss whether the evaluation is correct. In the second part of this article, I will explain whether the evaluations are correct or not.
Village of 100 Art Professionals
 In the previous article, I mentioned that it is the white people in Europe and the United States, such as gallerists, purchase advisors, curators, museum curators, and millionaire collectors, who determine the evaluation of artworks.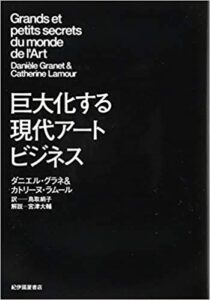 It is said that there are about 100 people in total who control these world art circles.' The Giant Contemporary Art Business: Kinokuniya Bookstore'(巨大化する現代アートビジネス 紀伊国屋書店 Japan)
 The most important places for them to discover new artists and purchase works are art fairs in Miami, Sao Paulo and Basel.
( Reference: The story of Art Basel, one of the world's largest art fairs, but a very stagnant one.(世界最大級のアート・フェアなのに、超閉塞的なアート・バーゼルのお話(The Story of Art Basel, One of the World's Largest Art Fairs, but Ultra-Obstructive) Japan Site))
 One of the most popular street artists in the world today, Banksy, is openly defying and criticizing the evaluation standards and values of the "Village of 100 Art Professionals".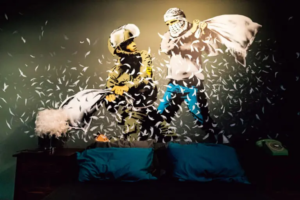 "The art world is the biggest joke that exists on earth!!"(Banksy's Bristol Home Seet Hone p90 作品社)
Banksy has this to say about the contemporary art world.
"The art they see is made by a select group of people.
 Only a few people create, promote, buy, exhibit, and decide the success or failure of art.
 Only a few hundred people in the world have a real say.
 When you go out to a museum, you are just a traveler looking at the trophy cabinet of a wealthy man."
 For art collectors, He said.

"No, I don't have any work to sell to Charles Saatchi. I have no works to sell to Charles Saatchi, and I never will.
 As I mentioned in the previous article, our customers are wealthy white people, so works that make claims that offend them will not be appreciated.

 For example, the A-bomb exhibitions in Hiroshima(広島) and Nagasaki(長崎) still cannot be displayed due to the opposition of American veterans, and the same goes for Maruki (丸木)and his wife's 'Drawings of the Atomic Bomb (原爆図)'.
 The buyers of the works are wealthy white people, successful venture capitalists and financial elites, but these venture capitalists and financial elites are not particularly knowledgeable about art.
 Therefore, they often follow the advice of professional buying advisors.
Do we have to start all over again with this art work?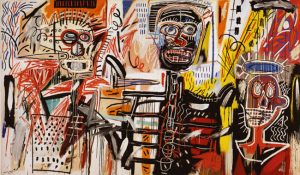 Yusaku Maezawa(前澤友作), who bought Jean-Michel Basquiat's work for 100 billion dallers, also hired Takashi Murakami and Etsuko Nakajima(中島悦子) of Gallery Perrotin Tokyo, which first sold the work in France, as his purchase advisors.
 Incidentally, Basquiat's work was negatively mentioned by Japanese contemporary artist Keiji Usami, (宇佐美圭司)who said that American contemporary art in the past might be a collection of junk and he said
 "Do we have to start all over again with this art work?"
('Art in the 20th Century' 1994 by Keiji Usami Iwanami shinsyo 20世紀美術'1994年 宇佐美圭司著 岩波新書  )
 I agree with him about Basquiat's work.
 'The expression of oneself enduring the crushing effects of drugs' is still untenable.
 What makes me feel sorry for art collectors is that, as Takashi Murakami said on TV's 'Cambria Palace(カンブリア宮殿)'.
 "Why do rich people buy art for a lot of money? The truth is that successful entrepreneurs and other rich people have a mental illness.
 They buy artworks to fill that hole in their hearts.
 Yes, it's a rich man's joke, if you say so. 
 And that's the situation.
 Buying advisers advise artists and gallerists on 'what works rich people will buy! What kind of work would a rich person buy?
 And the rich person who buys it buys or rents a big warehouse and displays his art collection and calls his rich friends and says
 "Hey, I'm intelligent, aren't I? Isn't it nice to be so intelligent?Isn't it nice to be so intelligent?"
 But it may be a collection of junk.
 
 At least the owner doesn't think it's nice at all.
 This is not going to save the rich forever.
 It's like a neurotic who is continually given fake pills instead of a cure.
  

John Lennon
says in this video.
 "I've already seen it through. The world is ruled by a paranoid authority figure.
 That's why they're going to kill me soon for seeing it through and telling everyone about it."
 This is why it is difficult to accept works that deal seriously with the current world-wide disparity of wealth, the contradictions of capitalism, and the limitations of Western civilization, white culture, and scientific faith.
 This is also true of the Chinese art that has emerged in the last 30 years.
  China is currently building museums in Hong Kong and other parts of the country to house powerful works of contemporary Chinese art, but they will never house works by
艾 未未Ai Wei Wei
and others who criticize the regime.
If this is the case, we cannot assume that the works of famous artists collected in museums are worthless, but we also cannot trust them outright, can we?
 So, how should we evaluate and purchase art?
  Needless to say, it is up to you to evaluate.
  It is up to you to be honest with your feelings and your heart.
 For example, in the case of music, are you moved by a song by the Beatles or X Japan and buy it because it was recommended by a music store clerk or a music critic?
 It's different, isn't it?
 It's the same with contemporary art.
 First and foremost, it is important to have an eye and a heart that are intuitively and viscerally moved by a work of art.
 Then, find opportunities to see as many original paintings as possible.
 Also, at least once, I would like to see the works of famous artists and emerging new artists that are being handled by leading galleries.
 I would also like you to think long and hard about why the works of masters such as Kandinsky, Paul Klee, Odilon Redon, Ryuzaburo Umehara(梅原龍三郎), and Sotaro Yasui(安井曽太郎) are so highly regarded.
  The true value of a masterpiece or a master's work is not so easy to understand, and I've had many experiences where I've thought about it for years and then suddenly it hits me like a flash.
There is no doubt that your discernment will grow in proportion to the number of these experiences.