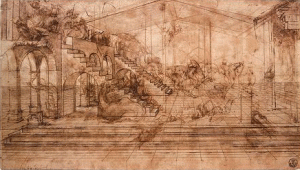 The art of painting is some kind of expression.It is the freedom of the artist what he express.
The artist may express thought or opinion or assertion ,and may be [pose a hint, an opportunity] to let a thought act and imagination such as "Fontaine," The Bride Stripped Bare by Her Bachelors, Even " of Marcel Duchamp work.
Japanese modern artist Hiroshi Senju said that art is communication , but if it isi so, all the people talking in a town are an artist.
The value of the art is decided by the quality of expression contents and expression technique , expression method. The fields such as literature, music, drama, movie, poem do not matter to this.Hi quality work express high Superior contents , Low quality work express dull contents.